Sorry for the long layoff on this blog. 2018 was an extraordinarily busy year for me, with the release of 11 new fiction titles (oh my Harlequin--how hard it's going to be to say goodbye to you next month when your series is done! Until then, you can take a look at Dominic on his first book cover just for fun), two non-fiction titles, multiple ghost writing projects, and editing. I couldn't do a lot of sports blogging like I usually do on this blog, or write many columns for the Orange & White Report. Both of those circumstances will be changing in 2019, which is currently a "light" year for me with five fiction titles and two more non-fiction projects in the works.
But that doesn't keep me from paying attention to what's going on.
2018 was a tough year in sports. Aside from the continuing inactivity in sexual assault and abuses in programs like Baylor and Michigan State (the conviction and indictment of Larry Nasser, the physician/rapist in East Lansing was a brief high point for the judicial system and an ongoing disaster for the NCAA), other egregious nightmares were exposed. The death of 19-year old University of Maryland football player, Jordan McNair, was directly attributed to abusive coaching practices under former HFC DJ Durkin. What was great to see was that Maryland actually investigated the program; what was absolutely unbelievable was that they reinstated Durkin as head coach. The fan and backlash was so virulent that they fired him the day after they put him back in charge of the team.
Another tone-deaf administration undone by the anger of an educated fan base.
Then, just twenty minutes up the road from where I'm writing this in the middle of the night, Urban Meyer's long-predicted and oft-expected end-of-the-road scandal reared its ugly head like a 17-year cicada. The former wife of OSU assistant Zach Smith revealed that not only did her husband abuse her physically and mentally, but that Meyer knew about the abuse for a decade and had still retained Smith on his staff, giving him annual raises and promotions. That coaching relationship between Meyer and Smith had its roots in the dog-dirty Florida football program that generated the likes of murderer Aaron Hernandez. During his occupation of the Swamp, Meyer saw thirty-one of his players get arrested between 2005 and 2010. You'd think he would have taken away something constructive from the fiasco that accompanied his exit from Florida.
You'd think he would have learned that the quickest way to destroy a coach's legacy is to look the other way at criminal activity.
But no. Zach Smith proved to be the rocks on which Urban Meyer's ship foundered, and while the embattled coach backslid into the same "health issues" smokescreen he'd used to exit Gainesville, stepping down at the end of the 2018-19 season with his reputation once more in tatters.
And then, of course, new information was brought to light regarding the former head football coach at Tennessee, Butch Jones, in a book that has my name on the front cover. During the course of the months co-author Tom Mattingly and I devoted to research and dozens of interviews, we unearthed a slew of nasty stories about the abusive atmosphere Jones created--the abuse of players, the withholding of transcripts so players couldn't transfer, the reason for the staggering number of injuries the Vols suffered every year, the micromanagement that turned into a totalitarian regime, and the interference in medical protocols that resulted in players having untreated injuries once their playing days on Rocky Top were done.
In all these cases, a common denominator existed that tie the universities together. 2018 was the year of the fan, and make no mistake--that's not always a compliment.
Anytime you've got someone in the media that breaks a big story, there's going to be a lot of backlash. As a writer, you try to prepare for that. I certainly tried to steel myself before Empowered was released, and I know that an experienced journalist like Brett McMurphy (who broke the Zach Smith case) almost certainly did as well. But in the sports world, there's really no way to prepare yourself for the ignorant fan or the belligerent fan or the stupid enough to call Paul Finebaum's nationally syndicated show and brag about poisoning the famous oaks at Toomer's Corner because Auburn beat Alabama that year Harvey Updike sort of fan.
Surrender cobras...usually the first reaction of an asshat
fan when the game doesn't go their way.
2018 was a year in which the asshat fan thrived.
Now sure--the asshat fan is just the leading edge of a fringe element in all sporting fandoms. Usually, we all believe the asshat fan is at that OTHER school or rooting for that OTHER divisional team. It's much more difficult to accept that your university is just as guilty of asshat fans as every other university is. And nowhere does the asshat fan thrive more than in big-money NCAA sports.
When McMurphy broke the Zach Smith case, the response of Ohio State fans was immediate and extremely defensive. Fans howled at the media, especially McMurphy.
They also howled at Smith's victim for a decade, his ex-wife Courtney Smith. As their anger increased so did the asshattedness, until much of what you saw on social media consisted of fairly serious threats against her--a woman who'd endured a decade of abuse from her spouse and with small children to raise. But many Ohio State fans were more concerned about the threat of losing their national championship winning coach. As Chris Thompson put it in his article for Deadspin:
Probably no one in this story especially

needs a rally of support on the OSU campus, and certainly not the guy collecting payments on a $6.4 million annual salary to sit at home and not do a job, while his employer tries to figure out whether he was apathetic about one of his assistants abusing and terrorizing someone. But sports fandom—all fandom, for that matter—is a fucking disease, and so here we are: some 250 deeply wacko Buckeyes fans gathered angrily outside Ohio Stadium Monday afternoon to chant and sing and wave signs in support of Meyer.
Sports fandom is a fucking disease. Sounds kind of harsh, doesn't it? But isn't it also an accurate diagnosis of the cray-cray that infests every fan base, from Little League to the NFL? I mean--take a look at the definition:
a person who has a strong interest in or admiration for a particular person or thing.

"football fans"

synonyms:

enthusiast

,

devotee

,

admirer

,

lover

;

More




Abbreviation of fanatic. Might be something to keep in mind moving forward. All I know as the mother of a young woman who, like Courtney Smith, is enmeshed in the horror of an abusive marriage to a man more than twice her size and weight compels me to state unequivocally that there are no circumstances or situations where it's justifiable for one marriage partner to beat, choke, slam, slap, claw, or strangle their spouse.
Zero. None.
These men represent the worst of the bad. They not only supported an enabler of domestic abuse, but they hijacked a hashtag for victims of sexual abuse and tried to blame two entities for the scandal that had nothing to do with it: Paul Finebaum and ESPN.
I'm sure that among the two hundred and fifty Urban Meyer fans who protested outside Ohio Stadium, a few probably agreed with the statement I just made. But those same fans were saying something completely different when they started their protest (a very amateurish copy of what happens when Vol Nation decides to take a stand on something, by the way). They were declaring to the world that domestic violence was less important to them than winning football games. They knew that Urban Meyer was the key to getting back into the College Football Payoffs--oops. Sorry. I meant PLAYOFFS of course--and they were unwilling to sacrifice him . So they sacrificed Courtney Smith, her children, and her safety instead.
This has nothing to do with our ex-wide receiver coach, or the accusations against him, with his ex-wife. I don't want to talk about that! I don't condone what he's accused of, I don't condone any of that stuff! This is not why I'm here. That's not why I drove twelve hours and you guys are standing out in 95-degree heat—to talk about what he did or didn't do.
That's what the organizer of the rally--tragically self-identifying as "Tennessee Jeff"--had to say in his opening statement.
Sigh. Tennessee can't thank you enough, "Jeff".
Of course that's not what he wanted to talk about because he knew, way down deep in his two sizes-too-small heart that he was basically opening up an abuse victim to the worst kinds of online attention. He and the rest of the "protesters" stood around and talked and sang
(Yes, I saw them. I was waiting for them to bust out "We Will Overcome" just to make their make-believe persecution delusions complete.)
and talked some more, holding signs that were so gobsmackingly inane and devoid of awareness that even a certifiable cynic like me was stunned.
Yes, Virginia. There is a species of sub-human that is so ridiculously oblivious to how they make themselves and their university look. What? You want more of the surrender cobras? Okay. Here's one of my favorites.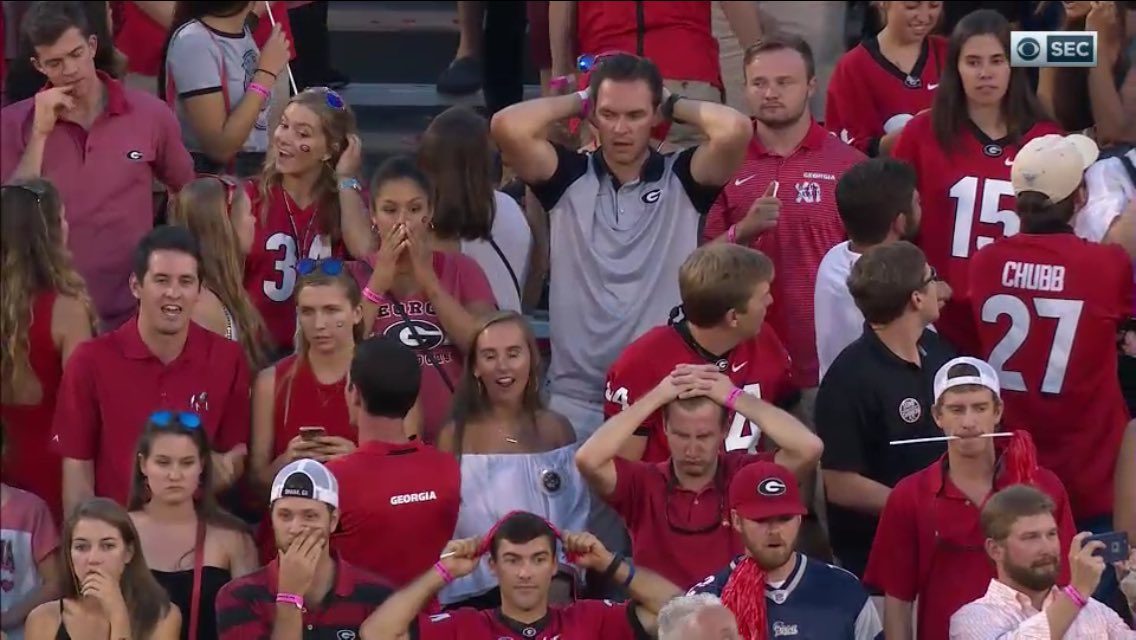 Of course this is the Tennessee-Georgia game from 2016. These UGA fans are watching the celebration after the Josh Dobbs to Jauan Jennings "Dobbnail Boot"Hail Mary reception to win the game.

Naturally, Ohio State fans were terrified that without Urban Meyer, Ohio State would implode and the 2018-19 season--when they had legitimate playoff hopes--would end up as a disaster. I wasn't terrified about that. In fact, I was kind of hoping they were right. (I'm married to one of them, by the way, and it's hard to gloat too much about Urban screwing up yet again when one of them is snoring on the other side of the bed.) And while the season didn't implode per se, the disaster that struck the Buckeyes when they were blown out by Pursue enabled me to gloat just a little.
I can't wait for Urban's health issues to miraculously resolve in time for him to head to another coaching destination so he can screw up their school in five years or so because that would get his scurvy carcass out of the state where I live.
See? See how easy it is to devolve into asshattery? While fans from any other university wouldn't consider what I just wrote as asshat enough to be worthy of the asshat fan designation, folks who love Ohio State certainly would. We all are just as protective of our school's reputation as we are proud of their prowess on the field. To any other school, Tennessee's five and seven season in 2018-19 shouldn't create any kind of positive outlook for the program's future. But Vols fans do have something to be proud of: two of those five wins were against ranked SEC opponents, both of whom went to bowl games and both of whom won their bowls--Auburn, dominating the hapless Purdue (who beat OSU by twenty and ruined their playoff dreams) and Kentucky, beating heavily favored Penn State in the Citrus Bowl.
So, yes. Every fan base has its asshats. But then you have the schools who habitually sit atop the football or men's basketball pyramid, and their asshattery assumes a virulent, shrill nastiness of manner that makes them universally loathed. You know who I'm talking about. Is there a school more arrogant about its men's basketball team than Kentucky? Duke, maybe. North Carolina, perhaps. UCLA has made a serious run at total asshattery, using methods that John Wooden would have never permitted. But in football, just take a moment to consider these asshattery candidates: Alabama. Oklahoma. Clemson. Notre Dame.
Four teams that made it into the CFB Playoffs this year.
I have a wide-ranging circle of friends within the comforting circle of football fandom. All of my Bama friends go out of their way to avoid being asshats, which is rather difficult considering the unquestioned mastery Nick Saban maintains over his program. When Alabama has a team that sports pundits are defining as the "best college football team ever" it's impossible for Tide fans not to talk themselves up. Here in a couple of hours, 98% of the Crimson Tide lovers online will be getting up and getting ready for work, maybe dropping an excited Tweet or two about the game tonight.
But here we are
...four in the morning on the day of the College Football Playoffs National Championship Game, and there's a faction online right this moment basically Tweeting nonsense just so they can type the following: #RollTide. They're also hunting for cyber-prey: basically people who hate Alabama that they can gang up on.
Yesterday, a lot of people were discussing my book with me, particularly the reported abuses Butch Jones had employed upon his team, staff, and assistants. The chapter where I go into that topic is the longest in the book. Tennessee's Hidden Nightmare: Player Injuries and Mistreatment.
That chapter includes this young man's story. Watch Mykelle McDaniel tell what happened to him in his own words and then let me know how that story makes you feel.
Butch Jones turned a football program into a totalitarian regime. I interviewed multiple players and staff members, three of whom went on the record. Between those three players, the entire spread of Jones' tenure in Knoxville was covered, and the escalating severity of his abuses was never addressed by the university because there wasn't consistent leadership or oversight.
There's not much difference between Jones and Maryland's DJ Durkin. Butch Jones spent the 2018-19 season as an "intern" at Alabama--an incredibly bizarre job title for a guy who'd been a head coach in the SEC just a year earlier. Saban recently brought the disgraced Maryland head coach, DJ Durkin, to Tuscaloosa as well. So I made the comment that all Saban needed was one more predatory coach and he'd have the classless trifecta.
In pops a Bama fan, so rabid to defend Saint Saban that he accused me of making up these stories in order to exploit the Tennessee fan base and promote my book.
This guy was supposed to be my friend.
Needless to say, I took exception to what he said so I verbally eviscerated him and kicked him to the curb, muting him when I was done. I'm not too proud to confess that I used language I almost never employ when talking online. But yeah...I cussed that you-know-what up one side and down the other. But , you ask? Because he cast aspersions on my work, publicly accusing me of making up sh*t so I could exploit the still-nervous Tennessee fan base and make money off them. Not exactly the approach a friend should take. Never mind the interviews online that corroborated the stories I'd published. Never mind the fact that we interviewed former players and staff, parents, journalists, physicians, donors and fans.
Nope. I "invented" those stories as exploitative promotion tactics so I can make a fortune In and of itself, the idea that any author makes money off a book like this one is kind of ludicrous. Yes, we had an Amazon #1 Bestseller in both Football and the History of Sports genres. But we didn't start cashing six-figure checks. Believe me.
Fast forward twenty-four hours. Dude is still at it, cyber-stalking me to YouTube, where a video about my book and the exposure of Butch Jones's treatment of his teams had been posted by the world's favorite LSU fan, TJ LSU Dad. Bama fan proceeded to leave a comment on the video, saying that I was a "hag" and a Finebaum "wannabe" blah blah blah.
LSU Dad doesn't go in for fake moral outrage, and as a LSU fan he doesn't have a dog in the fight. His reaction to my book and Mykelle McDaniel's filmed interview with me was exactly what I hoped a neutral party's reaction would be.
Yeah, this bushy-tailed squirrelly lover of the Crimson Tide is a bona fide pin-headed nincompoop for thinking that calling me a "hag" was going to hurt my feelings. You see...to me any CFB fan should be proud of their programs and their coaches--not just for the wins each season on the field, but also the wins off the field. When the Vols run through the T each home game every season, I feel so much pride for our team and school that sometimes I tear up, especially if I'm on a rare trip back to Neyland.
Tonight, the University of Alabama will take the field for the national championship against Clemson, and right in their midst will be Butch Jones, the Bama "intern" who single-handedly destroyed the careers and futures of dozens of Tennessee players. That's nothing to be proud of. That's nothing to brag about. As a matter of fact, Butch Jones representing the University of Alabama in any capacity is just as egregious as Urban Meyer knowingly enabling a wife-beater throughout his career. Think about it--what does it say about Nick Saban when he's the guy who brought Jones on as a $35,000 per year staff member--carefully keeping Jones's salary well below the figure where he'd lose the $9 million of his buyout from Tennessee?
And what does it say that he's also poised to bring Durkin onto his staff as well?
No one was louder about Urban Meyer and the Zach Smith scandal than the asshats among Alabama fans. Their moral outrage when Meyer was only benched for three games was vociferous as they clutched their pearls in sheer horror. How hypocritical my latest cyber-stalker's behavior is now!
You can't scream about Zach Smith and ignore Butch Jones on your own sideline.
I know what you're thinking, cyber-stalker. You're thinking that if roles were reversed, I would have accused you of making up bullshit for the money too. You're thinking that I would have responded worse than you did, cyber-stalking you as well.
Well...no, I wouldn't have.
Right now, UT is conducting a search for its new Offensive Coordinator. Several of the names that were brought up were names I found unacceptable for one reason or another. But one name in particular--Kendal Briles--had me writing this a couple of weeks ago in a column:

So as fans and supporters, we have to look at the story that Tennessee is considering Kendal Briles as its new offensive coordinator and make our own determination of what we think and how this news makes us feel--not just about UT but about ourselves. Make no mistake--bringing Briles to Rocky Top will once again expose the university and the fans to the ridicule and scorn of the national media and other fan bases. Deservedly, I might add. That move would make the idea of Tennessee "morality" into a national joke.
I was horrified, however, at how many of my fellow Tennessee fans were 100% behind the Briles hire at OC. Remember when I said that every fan base has its asshats? The University of Tennessee is no exception. We have idiots who suck up to recruits--basically "writing love letters" to them, as one of my friends sarcastically said about the worst such offender--and then, when the kid and his parents choose to sign with a different school, these grown-ass men (for the most part) suddenly nuke the recruit's social media feeds, screeching like crazy old ladies who shoot kids with BB guns if they set one toe too close to their pansies in the flower bed.
Every member of Vol Twitter knows exactly which asshat I'm talking about. *waves to Sab*
We also, apparently, have fans for whom winning is more important than reputation or history or brand, and in places like Baylor winning is MUCH more important than the psychological, emotional, and physical health of those fifty-one rape victims or the thirty players that allegedly committed those rapes. Just like I said a minute ago: you can't revolt against the hiring of Greg Schiano on morality grounds and then welcome the architect of the "show 'em a good time" recruiting policy at Baylor, where recruits were taken to strip clubs, given alcohol, and allegedly provided with girls for sex. And just like when my cyber-stalker accused me of manufacturing the charges against Butch Jones--I discovered what had happened to dozens of Tennessee players by interviewing the victims just like the attorneys and Title IX enforcers and law enforcement discovered what was going on at Baylor by interviewing the victims.
Of course, seeing as my cyber-stalker hasn't actually READ the book and the stories in question, anything he has to say is automatically null and void. Bashing a book's veracity just because you want the stories to be untrue is one step away from burning books, or banning them, or censoring them.
2018. The year of the asshat fan has extended, sadly, into 2019. Here in about thirteen hours, the pageantry and hype of the last football game of the season will kick off and every football fan will be set up for four hours of the greatest sport ever existed (save for jai alai) and the subsequent drought once it's over. By this time tomorrow, every football fanatic in every fan base except for one (tonight's winner) will have their thoughts turned to next season.
Tomorrow night, either the Clemson fans or the Alabama fans--whichever is victorious--will turn their attention to torturing every other school with gloats, boasts, brags, and for most of them a very real sense of joy at what their team has accomplished. Hidden in the depths of the winning fan base, however, are going to be the asshats whose online behavior cranks up in activity but plummets in class. They don't care that they're ruining the sport for everyone but themselves. They don't care that one day, their beloved coach is going to retire or go to the NFL or otherwise move on, and then their program will take a nosedive. That's the way that athletic success works. Winning programs move through history like a pendulum, and the bigger the swing into championship seasons, the greater the corresponding downfall of the program will be.
As for my beady-eyed, bushy-tailed, acorn-hoarding cyber-stalker...
You may think I'm a hag. I don't look my best at times, but by God, I'm still walking despite being advised by my surgeon that I'll end up in a wheelchair within the next few years. I refuse to let my physical deterioration interfere with my professional goals, which are ambitious. So I defy anyone to come out of the last two decades I have--the automobile accident, the chronic pain, the agonizing repercussions of multiple major spinal surgeries--and have them looking like they could still win beauty pageants. At the end of the day, I don't give a damn if you and your Loser in 'Loosa buddy think I look like a hag. I'm a fifty-two year old grandmother of seven, and as long as my damn good-looking husband, who's worked his ass off since I was disabled just to keep our heads above water, is content then I could give two craps about what a man who's too much of a coward to use his real name or his photo in his profile.
At least I don't brag if my name is mentioned on one page of Finebaum's last book. I sure as hell can brag that my name is on the spine of over forty books instead.
At least I have the courage to squirrel out a story, even if that story damns my own school, and get the information out there because it's the right thing to do.
At least I have the courage to use my own name on social media, and blog instead of hiding behind a ridiculous pseudonym like squirrel or chipmunk or raccoon.
At least I have the courage to expose a squirrel's cache of wrongdoing, although more than one person warned me that if I got too close to the truth about one particular family I could be endangering myself.
You can always tell if a person's really a rodent underneath their smiling facade, because anyone who cyber-stalks you as a result of your opinion--whether it's about football or politics or who gets to sit by the window on the plane--is nothing but a big fat rat.
One of my other friends, Archie, had enough of the squirrelly way my cyber-stalker was acting yesterday afternoon. Keep in mind, this was twenty-four hours after the stream of abusive commentary began when I expressed my disappointment in Alabama for continuing its quest for a trifecta of low-class former coaches enrolled in Nick Saban's Reformatory. When he was done with the panorama of Bama non-gramma, Archie said this:
You've made an ass of yourself trolling

@CelinaSummers

the past 24 hours chipmunk. I'll give you a few minutes to read this, then handle you accordingly.

#DumbassOldGuy
I thought his remark was remarkably pithy. That's the downfall of every asshat fan. Eventually, you get called out by a total stranger for being an asshole. Not assHAT. AssHOLE.
Sports are a huge part of our societal culture. Sports have been a form of entertainment since well before the first time two guys were thrown into an amphitheater with a couple of swords and told to fight for the amusement of ancient Rome. So maybe think of it this way as we move out of football season and into the heart of basketball season--
Don't ruin sports for everyone around you. Don't be the asshat who stands at the end of the bar, drunk as a lord, screaming curses at the big screen TV like the coaches or referees or players can hear you and ultimately launching your beer bottle at the TV if things don't go your way. Don't cyber-stalk someone who doesn't share your fandom for your school.
Don't be that asshat fan.
Because all too soon, football season's done and your basketball team is mediocre at best.
Instead of being an asshat, try to do the right thing--and try to force the university you support to do the right thing also. Because this much I can guarantee you: having Butch Jones on your sideline tonight? That'll make people believe Nick Saban doesn't have one damn iota of common sense, as if the University of Alabama is condoning the abusive and predatory nature of Butch Jones.
And karma, my erstwhile friend, is a total bitch.